Videos
SportsDocMatt
SportsDocMatt breaks down the latest in injury news
Matthew T. Provencher, MD Captain, Medical Corps, USN (Ret.)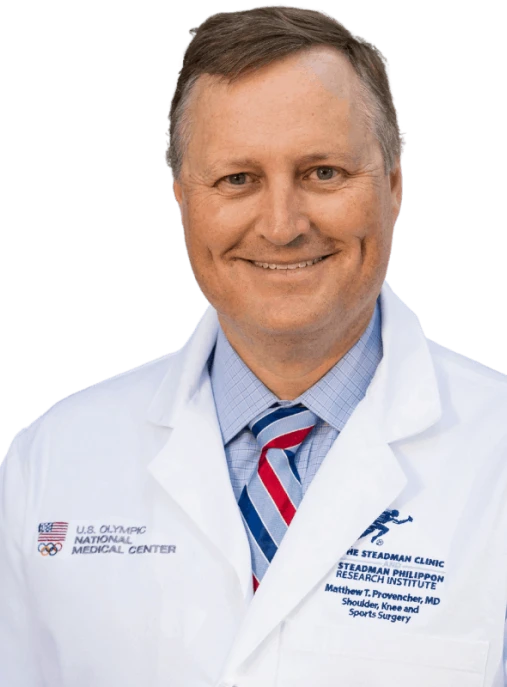 Renowned orthopedist Dr. Matt Provencher and his company The Predictors, deliver data-driven injury insights to football fans. Over the past three years, he and his team provided important predictive player health and recovery information about post-injury performance, the impact of weather, field conditions and more to the TV personalities at FOX Sports for their use during broadcasts, thus serving hometown team loyalists, fantasy league owners and wagering interests.
Dr. Provencher, a retired U.S. Navy Captain, first created the core algorithm for The Predictors' proprietary insights while working as the Naval Special Forces (SEAL Teams) Head Orthopedic/Sports Surgeon. He now leads a team of world-class data scientists and technologists with more than 50 years of collective professional sports league experience.
Dr. Matthew T. Provencher, a native of Barrington, New Hampshire, attended the United States Naval Academy, where he was appointed the Deputy Brigade Commander (Second in command). He graduated with Distinction (Highest Honors) with a Major in Electrical Engineering and was recognized as the Secretary of the Navy's Distinguished Graduate. During his time at the Academy, he was a 4-year varsity oarsman and First-Team All-American and was also named Most Valuable Oarsman. He completed his medical education at Dartmouth Medical School where he graduated with honors and was elected to the Alpha Omega Alpha Honor Society.
While on Active Duty, CAPT Provencher served as an Orthopaedic Surgeon at the Naval Medical Center San Diego from 2004 to 2013 where he was the Director of Sports Medicine and Surgery. As the Head Orthopaedic Team Physician for the Navy Seal Teams 1, 3, 5 and 7, he was instrumental in establishing the Special Forces Tactical Athlete Program (TAP) – a comprehensive wellness, injury prevention and rehabilitation program for Naval Special Forces.
In 2012, Dr. Provencher took on the positions of Chief of Sports Surgery at Massachusetts General Hospital (MGH), Visiting Professor of Harvard Medical School, and Medical Director/Head Team Physician for The New England Patriots football team. During the 2014 football season, he was the Medical Director of the Patriots during the 2014 Super Bowl run that earned the team their fourth Championship. While with the team, Dr. Provencher pioneered a wellness and injury prevention program that drastically reduced lost player time related to injuries. He also served as a 2nd opinion orthopaedist for the NFL, MLB, and the NHL. In addition to the above, he acted as an assistant team physician for the Boston Red Sox and Boston Bruins. In March 2016, Dr. Provencher began his orthopaedic duties at the world-renowned Steadman Clinic and Steadman Philippon Research Institute.
Dr. Provencher was recently named one of the Top 28 Shoulder Surgeons in the United States and one of the Top 28 Knee Surgeons in the United States by Orthopaedics Today. He is also recognized by Becker's Orthopaedics as "One of 59 Great Orthopaedic Surgeons." His research includes over 245 peer-reviewed publications and articles, 148 text book chapters, and has authored 6 individual textbooks. He has given over 500 peer-reviewed national and international presentations in the realm of sports medicine and leadership. He continues his duties in the Navy as a Reservist and is assigned to Navy Seal Team 17 in Coronado, CA.
Dr. Provencher resides in Edwards, CO with his wife and four children.
Joey Bosa - Foot Injury (In Game Analysis)
Michael Thomas Knee Injury
Marshon Lattimore Ankle Injury
Derek Carr Shoulder Injury and Concussion
Kwon Alexander - Achilles Tear
Deshaun Watson Ankle Injury
Tyrod Taylor Rib Injury
Kirk Cousins Achilles Tear
Matthew Stafford - UCL Sprain
Kyler Murray - ACL Return
Jalen Ramsey - Meniscus Return
Nick Bolton - Wrist Dislocation
Mohamed Ibrahim - Hip Dislocation
Justin Fields Injury - Thumb Dislocation
Ryan Tannehill Injury - High Ankle Sprain